Who Pays for the Damage to My Car
After an Accident?
July 22, 2022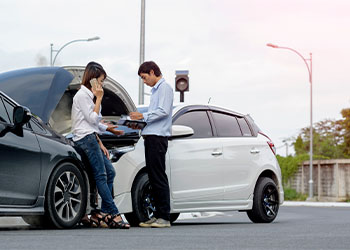 Insurance is confusing. Although auto insurance policies are supposed to be easy for anyone to understand, they aren't. So, if you are involved in an accident that damages your vehicle, it is not always clear who is responsible for paying for repairs.
If someone else was at fault for the accident, any injuries you sustained are not the only expenses they may be responsible for paying. The repairs to your vehicle may be theirs to bear as well.
If you have been in a car accident in Edinburg, Mission, McAllen, or anywhere in the Rio Grande Valley, Texas, The Law Office of Aaron Fonseca can help. Don't use your own insurance coverage or bank account to pay for damage someone else is financially responsible for.
Do At-Fault Drivers Pay Damages in Texas?
Texas is a fault state for auto accidents. In simple terms, that means that the person who caused the collision is financially responsible for paying the damages caused to any victim of their negligence.
If you backed into a utility pole and damaged your vehicle, you bear that fault. Since you do, you could file a claim against the collision coverage on your own insurance policy to pay for repairs. However, if someone hit you because they were negligent, you can file a claim against the at-fault driver's liability insurance coverage to pay for damages.
Texas law requires auto owners to carry liability insurance of a least minimum amounts. They must have bodily injury liability coverage of at least $30,000 per person and $60,000 per accident. Moreover, they must have property damage liability coverage of at least $25,000 per accident.
Do I Use My Own Insurance to Pay for Car Repairs After an Accident?
You have options for how you pay for damage to your car, depending on the circumstances of the accident and the insurance coverage of those involved, including your own coverage.
The first step is to establish fault. If the fault lies with the other driver, you should file a claim against their liability coverage. Expect to meet with resistance from the other driver's insurance company. It will deny the fault of its insured and attempt to assign the majority of fault to you.
You should contact your own insurer to open a claim. Because filing a third-party claim against the at-fault driver's policy will take a long time to settle, if at all, you may want to either have your own collision coverage if you have it, pay for the repairs or pay them out of pocket.
There are pros and cons to using your own collision coverage. On the plus side, your insurer will document damage and approve repair estimates. That will likely get your car back to you much sooner than a third-party claim. Moreover, even though your insurance company pays the claim so you can get your car back, it will pursue reimbursement from the insurer of the at-fault driver. That's because your company wants to get its money back. Moreover, your company may be able to get your out-of-pocket deductible reimbursed as well.
If you pay for all repairs out of pocket, you will get your car back more quickly, and you won't have your insurance rates increased due to filing a claim. However, you will likely face a prolonged fight with the at-fault driver's insurance company, so you will not be reimbursed quickly.
An experienced car accident attorney can help you sort through the variables involved in determining who should pay for repairs and in establishing the fault of the other driver.
What Is the Basis for the Amount Paid?
The repairs covered are based on the value of the car. If the vehicle is "totaled," that means the cost to repair the accident damage exceeds the value of the car itself. In that case, your car will not be repaired. Instead, the insurance company will offer a sum of money, based on the value of the car, in settlement of your claim.
Turn to Reliable Legal Representation
As a personal injury attorney, I represent car accident victims injured by negligent drivers. In that role, I work to recover just compensation for the injuries, lost wages, pain, suffering, and other damages my client sustained. However, I also help my clients with their property damage claims if they need it. If you or your car have suffered after an accident caused by someone else in Edinburg, McAllen, Mission, or Rio Grande Valley, Texas, call The Law Office of Aaron Fonseca now to schedule a free consultation.