Motorcycle Laws in Texas
Feb. 17, 2023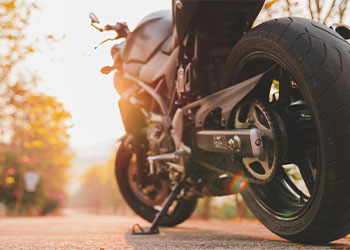 Vehicles of every type have a responsibility to follow the rules of the road. Those rules include such measures as obeying traffic signals and signs, driving at speeds safe for the conditions, and yielding the right of way.
The rules of the road are designed to keep everyone on them safe. However, motorcycles in Texas are subject to a few special laws to protect operators and others. Failure to abide by them may result in the assignment of fault for a personal injury or wrongful death claim.
As a motorcycle accident attorney, I understand the biases often held against motorcycle riders. That is why my firm, The Law Office of Aaron Fonseca, fights for clients involved in motorcycle accidents. I proudly serve those in Edinburg, Texas, as well as Mission, McAllen, and throughout the Rio Grande Valley.
What Texas Laws Apply to Motorcycles?
Motorcycle laws in Texas cover four key areas: equipment, helmets, passengers, and lane splitting. The following laws are crucial for motorcyclists to know and abide by:
A headlamp, rear reflector, brake light, taillight, and license plate lamp are all required equipment for motorcycles. A working horn and rearview mirrors are also required. Tires, brakes, wheel assembly, and steering and exhaust systems must be in good working condition.

Helmet laws apply to operators and passengers. Operators who are 21+ and show proof of completion of an approved driver safety course or of at least $10,000 in medical insurance are not required to wear helmets. Passengers 21+ do not have to wear helmets so long as the operator they are riding with is not required to wear one. All other operators and passengers must wear a DOT-approved helmet.

Passengers must be at least five years old. Passengers are only allowed on motorcycles built to carry one.

Lane splitting is illegal in Texas. Motorcycles must travel in a lane at all times and not travel abreast of one another in the same lane.
What Happens If I Was in a Motorcycle Accident?
Texas is a fault state for auto and motorcycle insurance. That means the person whose negligence caused the crash is financially responsible for the injuries and other damages suffered by others involved.
Texas also observes modified comparative fault. Anyone less than 50% at fault for the accident, even if they're still partially to blame, can recover from the driver more than 50% at fault.
If you were injured in an accident in which someone else was more than 50% at fault, you can file a personal injury claim against that driver's auto insurance liability coverage. You will seek compensation for your current and future medical bills, lost wages, pain and suffering, and other damages.
If you are assigned some fault, your financial recovery will be reduced by that percentage. For example, say the damages you're seeking total $80,000. The other driver is 70% at fault and you are 30% at fault. Your recovery would be reduced by $24,000 (30%) and you would receive $56,000.
A violation of any of the rules of the road and Texas motorcycle laws can result in the assignment of fault to you. For example, a vehicle following too closely hits you from the rear, but because your brake light was not working, you share some percentage of the fault.
What Do I Do if My Loved One Was Injured or Killed in a Motorcycle Accident?
If your loved one has been incapacitated by the injuries suffered in an accident, there are options for filing a personal injury claim on their behalf. If the victim has a durable power of attorney giving such authority to someone, that person can pursue a claim. If there is no power of attorney, you can petition the court for a conservatorship that will give you the authority to file a personal injury claim.
If you are the spouse, parent, or child of someone who died in a motorcycle crash, and someone else was more than 50% at fault for the crash, you can file a wrongful death claim. The claim would seek recovery for the estate — for medical or funeral expenses, for example — and for the survivors' loss of companionship and guidance, future income, and other damages.
In personal injury and wrongful death claims, the plaintiff (the one filing) must prove:
the other party owed a responsibility or duty of care to the victim;

that party failed to uphold that responsibility, through negligence or reckless behavior;

and, as a result, the victim and their survivors suffered injuries and damages.
Speak With an Experienced Attorney
When motorcycles are involved in accidents, there is an inherent suspicion that the motorcyclist was to blame. I believe in fully investigating the circumstances of the crash and will work to mitigate any finding of comparative fault on my client's behalf.
If a negligent driver injured you, or if you lost a loved one in a motorcycle crash, you have the legal right to seek compensation. If you're in Edinburg, Texas, or the neighboring areas, call me at The Law Office of Aaron Fonseca now to schedule a free case consultation.